Home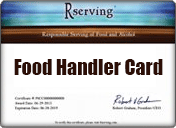 Food Safety Card for Food Handlers

Food safety is one of the most important concerns in the food service industry. Improper food handling or unsafe conditions can lead to foodborne illness, disease, or even death.
As a food handler working in the food service industry, it is your responsibility to know safe food handling techniques and procedures. The online
Food Safety for Handlers
(food safety certification) course will teach you everything you need to know to work as a responsible food handler and provide you with an industry accepted Food Safety Card from a leader in the food service / hospitality industry.
What is a Food Safety Card?
The Food Safety Card is a state approved license that allows you to work as a food handler in your state.
Who is considered a food handler?
A food handler, as defined by the law, is any person who is involved in the preparation, storage, or serving of food in a food facility.
How can I get my Food Safety Card?
All you have to do is take the
Food Safety for Handlers
course, once you have successfully completed the course you will receive your Food Safety Card.
Contact us
for more questions or visit us at
Rserving.com